Contact Steven C. Adamko - Interior Designer from Kalamazoo-Portage Michigan for Exquisite Top-Level Residential Interior Design Services and Results that will absolutely Delight and Amaze You with the Perfect Look and Tailored Ambience or Ambiance
Get the Full Spectrum of Residential Interior Design Services from Concept to Completion! … CALL Steven C. Adamko – Interior Designer Extraordinaire … Right Now!
Subscribe and listen on major platform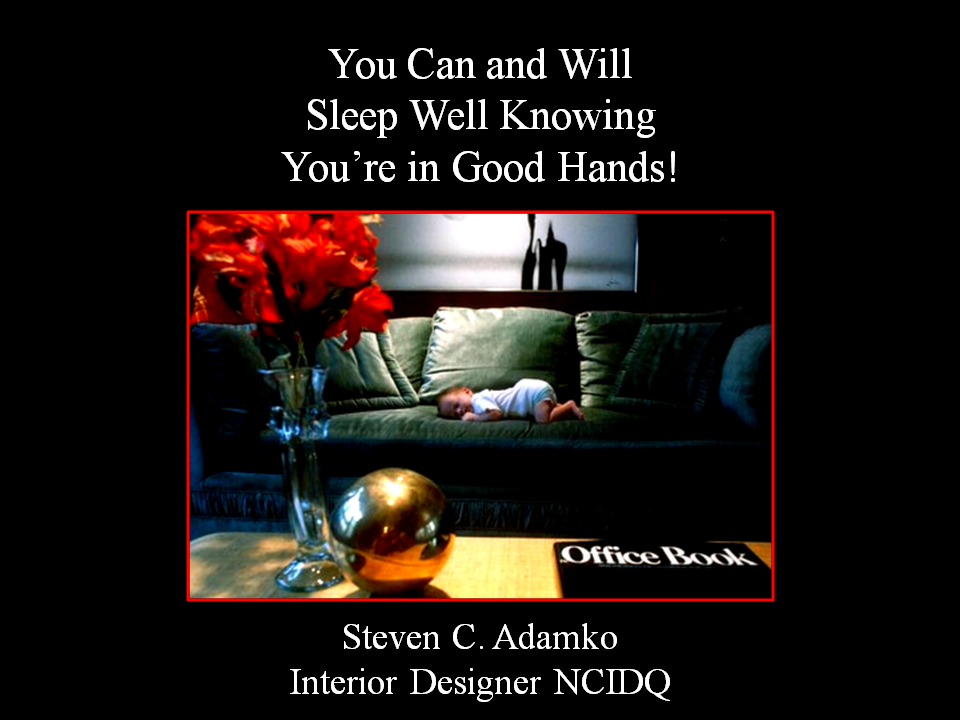 2 Powerful Reasons Why You Need to Call
Steven C. Adamko - Interior Designer
Right Now!
Why You Need to Call  Steven C. Adamko – Interior Designer … Right Now!
When comparing decorators and designers, there is an overwhelmingly large range of talents and skills. Unfortunately, for the uninformed client, you definitely can't rely on the title they assigned to themselves to be able to distinguish which is which, either!
Some independent decorators and interior designers only work in their own preferred personal style and look. They are quite comfortable because they limit themselves to their one favorite specific genre. Others are only comfortable working with the types of furniture and styles that they personally like and are comfortable with from a personal standpoint. If for some reason you choose to work with them, you are buying what they like. So, in essence, you are buying their look or brand.
Coincidentally, everyone else that uses them gets their look or brand, too! So the interior of your house may very well look extremely similar to someone else's house. Where is the individuality and uniqueness in that? Therefore, your personality and the look and ambiance that you want or need is partially or totally submerged by the look the decorator or designer would prefer to impose on you based on the personality and aesthetic preferences of the decorator or designer! So, whose house is it, anyway? Who pays the house payment?
That's why You Need to Call Steven C. Adamko – Interior Designer! I think you get my point here.
When it comes to selecting an interior decorator or designer, you must be careful. Realize that you can rank interior decorators and designers in categories from kindergarten level, all the way up to Masters, Ph.D., and Doctorate. Or if you prefer, you can rank them from 1 to 10, with 10 being the highest. To judge properly, you have to know what you're looking for and what constitutes top-level interior design.
If you need a level 8 to 10 interior, don't mistakenly hire a level 7 designer. This reminds me of a quote from one of Clint Eastwoods' movies, "A man's (or woman's) got to know his (her) limitations." If you as a client don't know the decorator or designers limitations, relative to what you need, then the next line from one of Clint Eastwoods' movies is appropriate for you. "Are you feeling lucky?" Well, you're going to need a lot of luck if your interior decorator or designer is under-powered and lacking in talent and ability!
Steven C. Adamko – Interior Designer is a High-Level 10+ Designer. Make No Mistake About It!
NOTE! … We are still working on the Website. So Our Contact Form is Not Ready at this Time!
We Would Love to Hear from You!
Instead … Please Call 🙂 269-888-2049 (Landline) … It Is the Preferred Method at This Time in order to reach Steven C. Adamko – Interior Designer

NOTE! … We are still working on the Website. So, Don't Join the Mailing List at this Time!
Steven C. Adamko - Interior Designer Extraordinaire of Fascinating Talent and Ability
Looking for Interior Designers Near Me? Look No Further! Here Is The Top Kalamazoo Residential Interior Designer Near You! … Steven C. Adamko is the Standout Multi-Talented and Multi-Faceted Interior Designer among Kalamazoo Area and West Michigan Interior Designers and Delivers a Multi-Layered, Multi-Sensory, Stimulating Interior Design Experience for every residential client he works with.
Steve is a Real Professional High-Level and High-End Interior Designer, Furniture Designer, Lighting Designer, Author, Speaker, Licensed Residential Builder, Podcaster, as well as the Owner and Founder of Spectrum Interiors, a Residential Interior Design Studio. Steven C. Adamko is NCIDQ Certified since 1996. (National Council for Interior Design Qualification).
NOW! … Through the Power of the Voice … A Podcast for Those That Want the Real Truth About Professional Interior Designing from a Real Expert … Now as Close to You as Your Smartphone!